Last Updated on October 7, 2022
If you've never paid anyone to build you a website before, this blog post is for you. Over the next 13 minutes, I'll take you through the basics of how websites get built. By the end of this post, you should have a good understanding of the website design process, what it might cost, what to expect, and what to look out for.
What is it going to cost?
Probably around $2-$3,000 for a basic 5-page website. You may find someone who will do it for less, but they make take some shortcuts. If your website requirements go beyond a brochure-type website, it will cost more and for e-commerce websites, expect to pay at least $5000. The more complex the website the more you will pay.
Other secondary costs to consider include:
Domain name registration – usually around $20-30 per annum per domain name. Watch out for sneaky upsells that you don't need.
Web hosting – often $30 – $50 per month (buyer beware – the less you pay the poorer your overall website performance and support).
Website maintenance – if you are keen, you could do this yourself, or you can get a website care plan from your web designer for around $65 a month, or from $95 a month with hosting included.
Licenses for commercial plugins and themes – most websites need at least a couple of commercial add ons / apps or plugins. This cost may be covered by the web designer through a subscription to a care plan, or you could obtain the licenses directly. For a single website license $99 USD per annum is a common price for a WordPress plugin.
Logo design – most web designers/developers don't create a logo. If you go with a local graphic designer, expect to pay at least $1,000 for an original logo design. Another option is using a crowdsourcing website as that can be significantly cheaper with a lot of options.
Terms & conditions, depending on the legal requirements, you may well need specific terms and conditions drafted along with a privacy statement you will display on the website. You can either go to a lawyer for these or if you only need something generic, a legal template you buy online might be sufficient. For e-commerce, you will need terms of trade and shipping information.
Photography – you can do this yourself, hire a professional, or purchase stock photos. Hiring a professional will be more expensive, but it does make a huge difference to the overall quality of your website.
Copywriting – many people struggle to write the words for their own website. So getting a professional writer can save you time and provide you with well written and search engine optimised copy. Expect to pay from $65 to over $100 an hour.
Payment gateways – if you need online payments you will need a payment gateway. Most payment gateway providers (like Stripe, PayPal etc) charge a transaction fee plus a percentage of the sale.
Ancillary services – WordPress websites in particular often need services from 3rd party providers to ensure things like web forms and transactional emails are reliably delivered. This will normally be a small monthly fee.
How to find a web designer or web developer – and what's the difference between them?
Most people ask for recommendations, or they do an online search for 'web designer your city' etc. There are also dedicated freelancer websites where you can see listings for web professionals – for example, The Unicorn Factory features New Zealand freelancers including all types of creative and technical experts.
The distinction between a web designer and a web developer is getting more blurred as the web becomes more of a 'code free' environment. Code-free means that you don't need to write any code (even basic HTML and CSS) to create a website from scratch. The website still uses code, but the software or 'page builder' writes it for you. Generally, a web designer might know HTML and CSS – at least enough to copy and paste it to overwrite the page builder software when needed. Whereas, a web developer can write more advanced code. For example, if you needed your website to integrate with another 3rd party system (for example an inventory system or accounting system), you may need a web developer to write the integration. Having said that, most popular website builders will integrate with the most popular third-party systems and it's often simply a matter of clicking of logging into both systems and clicking on some buttons.
Evaluating a web designer – are they a good fit for you?
Choosing someone to work with, can be a highly subjective and personal decision. It might be that you get a 'good vibe' from the web designer's website, like what they say, like their work, and can find recent testimonials. It's important that you understand how they work, what they offer and what they don't offer. For example, some web designers may not help with email procurement and set-up, but they may or may not offer web hosting and ongoing support.
Always check out the web designer's portfolio as this will demonstrate their personal style and the type of businesses they have experience working with. Most web designers can adapt their style to suit the target audience of the website, but some also niche down and may focus on one particular type of business – for example, they may only work in the wellness sector. Others (like Web Matters) will be generalists, but even generalists over time can build up small micro-niches as people within the industry start referring others (for example, Web Matters has built several websites for romance novelists and at least five websites for different alpaca breeders!).
Contacting a web designer
Once you've narrowed down your search to a few web designers, make contact through their website enquiry form. This could be as simple as completing a basic enquiry form, with a few details of what you need, or they may have a more detailed form that you can complete, with very specific questions about your requirements.
Either way, the web designer will get back to you reasonably quickly, either asking for more information, or a follow-up phone call. The web designer will also want your project to be a good match to their skills and expertise, ensuring a good outcome for both parties. They'll also want to be sure that you have the budget to build the type of website you want.
Web designers often specialise in one or two website systems, for example, they only do WordPress websites, or they may do WordPress and Shopify. Other popular website systems include WebFlow, SquareSpace and Wix.
Briefing a web designer & getting a proposal/quote
Most web designers will start to guide you through this process, with some very specific questions they ask about your requirements and the extent of the website. Once the web designer feels they have enough information from you, they'll generally prepare a website design proposal, which will have a statement of the work they will do, the cost to complete the work, and how long it will take.
The web designer will need this type of information from you:
What are your specific goals and objectives? How will you measure the success of the website? Is it enough to get a few enquiries a week or a few sales a day? Do you need 100 sign-ups a week for lead capture? Or, are you merely ticking a 'have website box'?
How many pages do you need? For example, home is one page, about is another and so on. Most small business websites are around 5-8 pages. The more pages you need, the longer the website will take to build, as each page needs to be laid out, tested, adapted for mobile phones, and search engine optimised.
Original design concept or a template? An original design is a custom look created just for you. The web designer starts with a blank canvas and uses the content you've provided to make a website design. A template website uses a pre-made set of layouts that uses dummy content that gets swapped out for your content. Think of it as the difference between an architecturally designed one-off house, versus buying off the plans. Using a template can give you some certainty, but it may look too much like every other website. Having said that, just like houses, websites often have the exact same layouts.
E-commerce? Even just a bit of e-commerce can add a lot of extra complexity to a website, along with a lot more paperwork for you to complete with banks and payment providers.
Blog? Will the blog auto-post to social media? Do you need the blog to be automatically emailed out to your subscribers? What you are reading right now, is a blog post.
Accessibility or other compliance requirements. Making a website accessible to users of screen readers is becoming a requirement in some jurisdictions that have passed laws around accessibility requirements. If your website will be used by European citizens, then you'll need to consider your obligations under the GDPR.
Other features you might want include things like:

Coming soon page
Team member section with staff profiles
FAQ with schema markup
Membership areas
Learning management systems
Google reviews added to the website
Newsletter subscription form
Photo galleries
Announcement bars, or pop-ups
Enquiry forms
Quizzes
Social media feeds shown on the website
Once you've given the web designer enough information for them to quote on, they'll prepare the proposal and specify the cost to build the site. That cost will be for a specific set of features, functions and design. It might also include costs to host the site and do ongoing maintenance once the website has gone live. Be prepared to pay extra if you decide to add to the website part way through the build process.
If you are happy with the specifications and cost, you'll be asked to accept the proposal by signing it online with a digital representation of your signature. With most web design contracts, the web designer asks for a deposit to be paid upfront, with subsequent instalments tied to either development milestones or a certain time period.
The web design process in a nutshell
Once you've paid your deposit, the web designer will get to work on your project. The first thing they will want is your content, including your logo, photos and text for each page. Initially, they may be happy just to start with the text and images for the homepage. Most web designers will send you an onboarding document, that will outline their processes and how to collate and send your artwork and content to them. Often, content is sent using Dropbox or a service like We Transfer. Some web designers may also use a project management tool like Asana. And others may just manage the project using back and forth email.
The design concept stage
The design concept stage is where the web designer takes all of your content and assembles it into a mockup of generally of the homepage (adding their flair and creativity). Depending on your web design contact, you will get a couple of different design concepts to choose from. The concepts will show what the header, footer and main content areas of your website will look like. Some web designers may also provide a prototype of how the pages will work (including menus and any animation) presenting this as either a video presentation or as a working HTML page.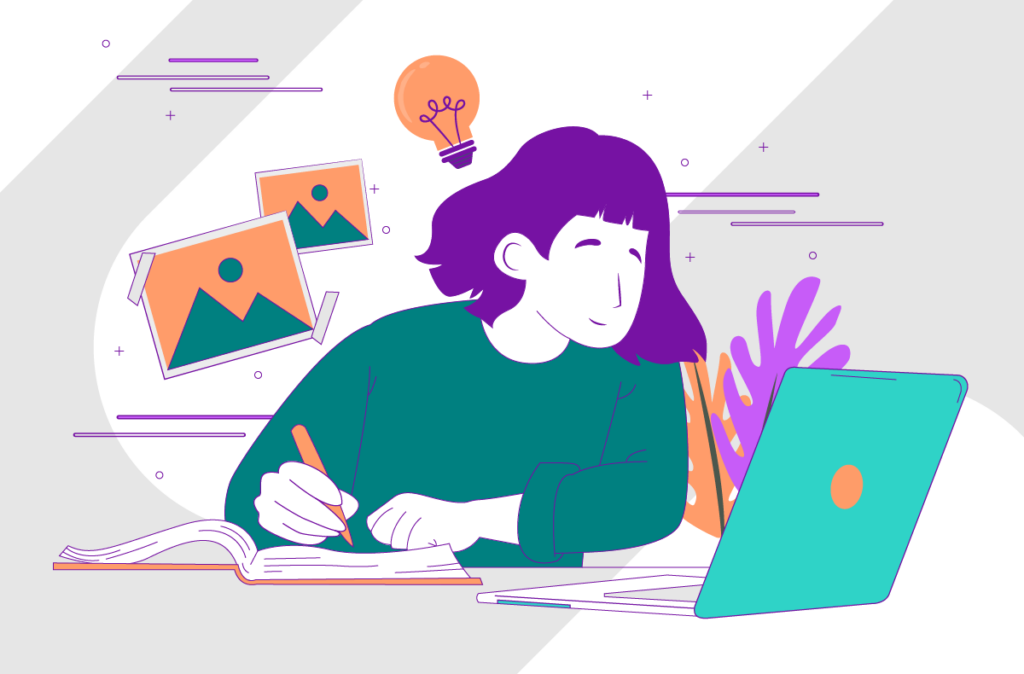 You'll now be asked for your feedback about the design concepts, generally, the web designer will expect you to focus on your most preferred design and provide changes or ask questions about that design. How many rounds of design revisions you get will depend on your contract. Most web designers provide at least two sets of revisions. Gathering your feedback about designs has become much easier in recent years, with tools like markup.io allowing you to write comments directly on the design concepts.
The web build & feedback stage
Once you've approved the design concept, the web designer starts building the actual pages. Once they've got a working version of the website online for you to review, they'll provide you with a private link so you can bypass any coming soon page or login. Generally, you'll also get two sets of revisions for changing each of the pages. Gathering your feedback and change requests will generally be done via a tool like markup.io or Userback.io. If the site is built using WordPress, there are also WordPress plugins that can gather your feedback – for example, atarim.io and projecthuddle.com.
Testing & going live stage
Once any content changes you've requested have been completed, the web designer will start testing the website to make sure things like web forms get delivered to your email address, and the website scales down well for smaller devices like mobile phones. If you have e-commerce another set of tests will be done to check that online orders can be made and completed and that test payment transactions are successful. Once your web designer has run through their set of checks, they'll ask you to approve the website to go live.
Going live simply means that the website is publicly accessible using your domain name. To make a website go live, a web designer will need access to your web hosting account, and your domain name registrar (these services are often provided by the same company). The domain name has a set of technical records (called zone files) that need to be updated so your domain name goes to your live website rather than a parked page. For some web builds, your web designer might point your domain name to a coming soon page, and build the rest of the site behind the scenes. Then, it will be a simple case of removing the coming soon page and revealing the live website.
Post live – support, maintenance and training
Most web designers will provide a support period of around 30 days, starting from the day the website goes live. That will often cover fixing any bugs that might crop up, or any issues up with plugins or themes or software updates. During this time, you'll also be given a login for your website so you can start making updates or posting blogs. Once the support period ends, you can either go on a maintenance or care plan or simply request support when you think you need it. If you are going it alone, make sure your WordPress website has reliable backups, a security plugin, and that WordPress and its themes and plugins are all kept up to date.
The goal with most modern websites is to set up the client so they can do basic updates to text and images and create new pages or blog posts when needed. Your web designer will set you up with a login so you can access the 'backend' or admin side of the website. Learning how to update your website, can either be self-directed by you, or your web designer may provide a help file and/or a video walkthrough of how to do updates. Any help documentation should be mentioned in the initial proposal and it may well be an optional extra. As WordPress websites in particular can vary greatly from one site set up to another, I would recommend taking any training or documentation on offer, rather than relying on free YouTube videos, as these can be confusing if they don't match your unique WordPress set-up.
Your key takeaway from this blog
Your takeaway should be this – make sure the proposal you get is comprehensive, as it's all too easy for things to fall through gaps if the language is vague or short on specifics.
Once the website has been live for a while, the next step is to start measuring how well it's meeting your goals, track visitors to the site, and keep up with any emerging compliance issues such as privacy and accessibility.
All the best, and please reach out if you have any questions at all.