Last Updated on November 19, 2020
Post Updates:

Video conferencing is the obvious way to replace face to face meetings. There are a lot of options available, but one service has become very popular, mainly due to it's ease of use, and that is Zoom.

As I work from home, it's mostly 'business as usual' for me, but with client meetings restricted to video conferencing. I'm also receiving emails from my suppliers outlining the steps they are taking to mitigate the risk to their teams and what they will do to ensure continuity of service. In most cases, working remotely is the solution, and fortunately, companies working in the internet world are very good at doing that.
Video Conferencing with Zoom
I'm using Zoom for virtual meetings with my clients. It's my pick for video chatting as its easy to use and always makes the top of any review articles about video conferencing. It's free to use, so long as you have less than three participants and don't need integrations with other services. If you need more (like want to take a payment as you sell your time), it's a small monthly charge.

See https://zoom.us/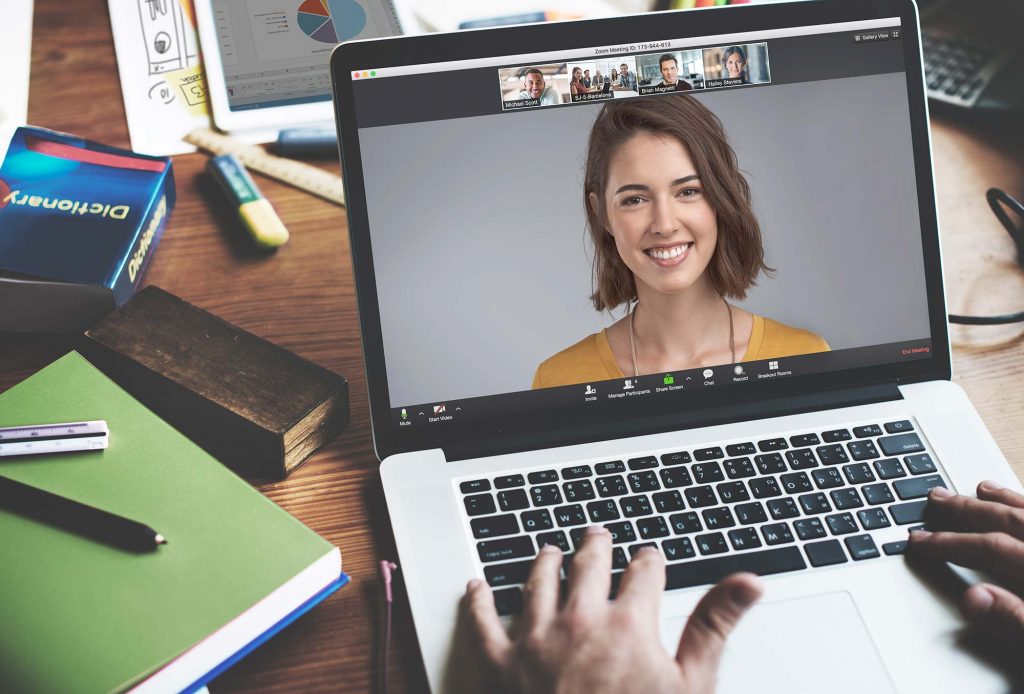 Zoom is reasonably easy to use, but like anything new it will have a learning curve. Fortunately, Zoom have some excellent videos and help documentation to guide you through using their system.
How Zoom works:
Firstly, sign up for a free account at https://zoom.us/
You can then copy and paste the meeting details into an email and send to your participants. The email will have a link to the Zoom meeting. They'll need a webcam or microphone, and the Zoom software (they'll be prompted to download it before joining the meeting)
Once the participants join, you can then chat with them via video chat, and even record the conversation if you wish to. There's also a text chat system. Plus, you can also share your screen.
How to Secure your Zoom Meetings – Advice from WordFence.com
Scheduling Zoom Meetings with Calendly
If you'd like to go a step further and schedule meetings, use Calendly https://calendly.com/ – and set up pre-defined appointment times for your meetings. Your client can then choose the time from the dates and times you've specified. Calendly can integrate with Zoom so the video conferencing details are automatically included in the meeting notification. Normally you need a paid account with Calendly to get it to integrate with Zoom – but due to the Covid 19 situation Calendly have announced that Zoom integration will be included for free for the foreseeable future.
Due to the global impact of COVID-19, we are allowing all users to access our Zoom integration for free for an extended period of time. https://calendly.com/
To add Zoom as an option to Calendly see https://calendly.com/integrations/zoom/instructions
Calendly also integrates with payment systems like PayPal or Stripe, so you can be reimbursed for your time. Alternatively, you do the scheduling manually, and then set up the meeting just before your scheduled date.
Other Video Conferencing Options
There are a many other video conferencing options you can explore as well including:
Skype
MS Teams – which is part of MS Office
Webex
Facebook Messenger
Google Hangouts
A surge in Internet Usage
We are already seeing a big surge in internet traffic from countries that are in full 'lock down'. Most industry experts are confident the internet infrastructure will handle the increase in traffic, with affects felt mainly on home networks. So you may experience some 'lagging' or freezing of screens when video conferencing. It will obviously depend on the type of internet connection you have.
Getting Website Updates from Web Matters
If you need help with doing any urgent updates, please get in touch by email and I can turn these around usually fairly quickly. I'm already seeing some clients being pro-active with doing their website updates around the health crisis.
Ok, so take care and if you have any questions about working remotely and video conferencing, please let me know. I've been working like this for 13 years now, so it comes rather naturally to me!